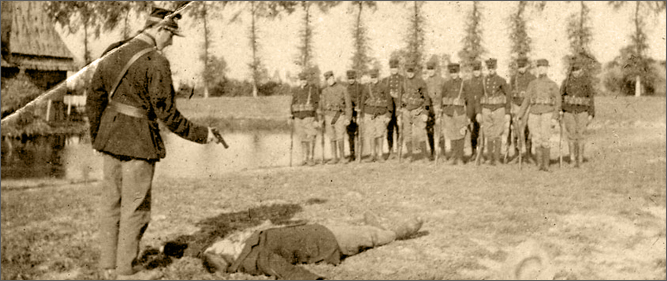 WP3: Justice, Crisis and (At-)Risk Populations
This WP examines experiences of global crisis and domination, which often induce specific transformations of judicial institutions and practices and, as times and contexts of exception and experiment bring about fundamental shifts in justice-citizen relationships. The focus is on how contexts of crisis or domination affect and are experienced by specific populations subject to justice, and how these, in turn, develop their own mechanisms transforming dominant society. 
The research firstly addresses experiences of military domination, including the repression and resistance during periods of French, Dutch, German or Belgian domination/occupation; the role and status of military justice; and post-war retributive policies (amnesty, "incivism"). A second research axis focuses on contexts of colonial domination, examining both colonial law and justice and police systems in the Belgian "colonial empire" (Congo, Ruanda Urundi), in the framework of European colonization. Within both research axes, particular attention is paid to the question how, in contexts of crisis and/or domination, specific risk and at-risk populations are defined, policed and possibly confined: from 'rebellious' populations, political opponents and war collaborators, to gypsies, refugees and migrants in contemporary globalized society.
Coordinators: Mélanie Bost, Bruno de Wever & Antoon Vrints
Partners involved: UCL, UGent, UNamur, Cegesoma, RMA, HU-Berlin
Research projects
Thomas Dufour, 'Worthy or Unworthy to Serve at the Front': Post-war Inquiry, Sanctioning and its Career-altering Effects on Belgian Officers, Captured During the Fall of the 'Fortified Position of Liège' in 1914
Helen Grevers, Collaborators, Justice and Society: A Social History of the Punishment of Collaboration in Belgium after WWII
Pascaline Le Polain, Justice and Coerced Labour in the Belgian Congo during World War Two (1940–1945). Supervision of the War Effort in the Territory of Libenge
Dimitri Roden, The German Military Courts in Occupied Belgium (1940–1944)
Lawrence Van Haecke, The Internment of Belgian Officers and Soldiers in the Netherlands during the First World War: From the Origins to the Post-War Political and Judicial Consequences for those Involved
Jan Julia Zurné, Justice, Police and Resistance. Policies and Consequences 1940–1950
Project "Data Collection": Belgians before the Bars of Berlin (Common Law and Special) Penal Courts during World War II (HU-Berlin)
Associated research projects
Some realisations of WP3
Picture:
©Cegesoma, image nr° 164103 : First World War, execution of a spy
The Interuniversity Attraction Pole P7/22 "Justice & Populations: The Belgian Experience in International Perspective, 1795-2015" (BeJust 2.0) is part of the Interuniversity Attraction Poles Programme Phase VII (2012-2017), financed by the Belgian Science Policy Office of the Belgian State.
The IAP VII/22 Justice & Populations www.bejust.be is the outcome of a collaboration between the Cegesoma, the IAP coordination team (CHDJ-UCL) and the Royal Military Academy. Design: tangografix. Powered by Drupal