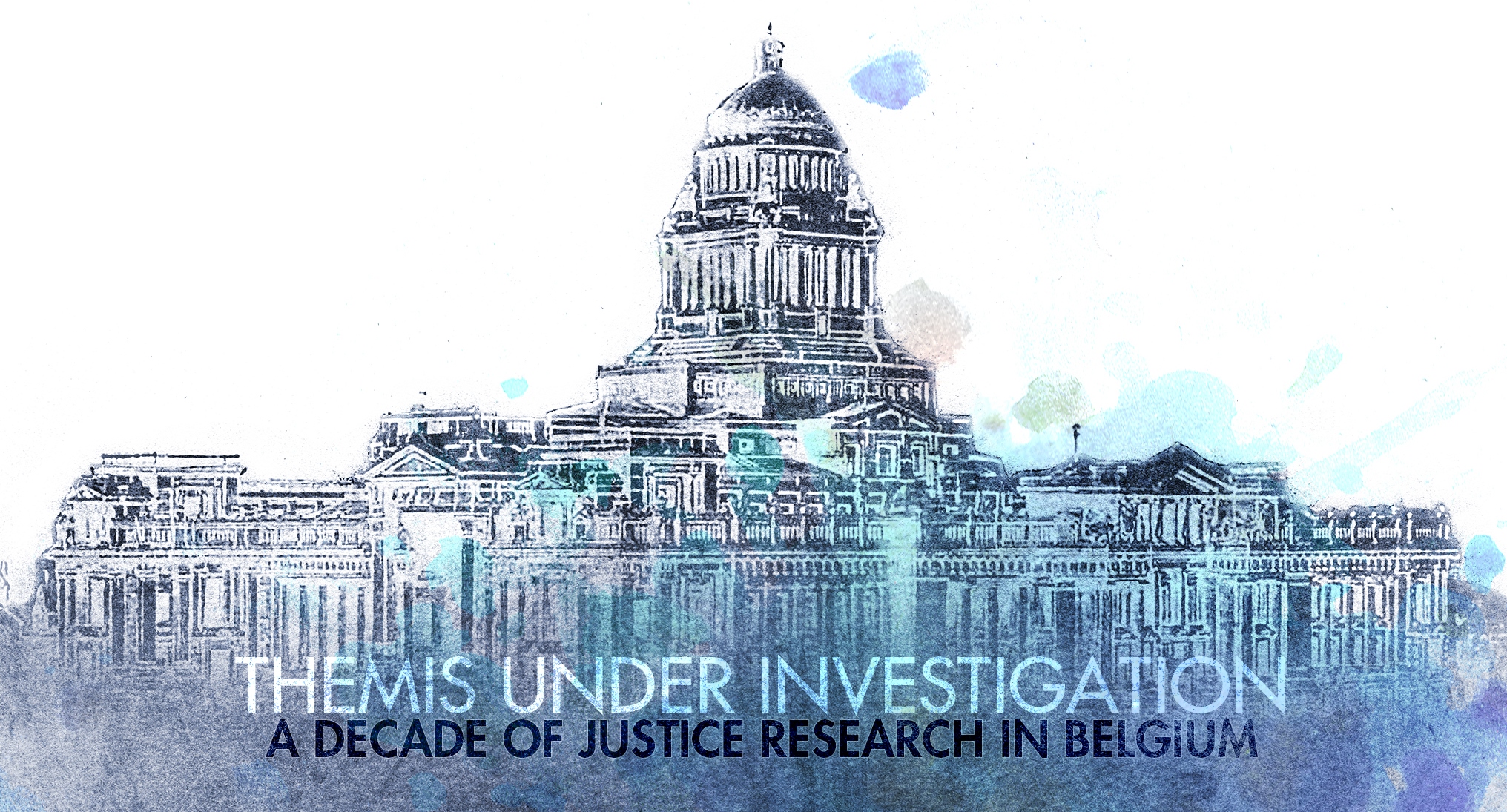 IAP Final Event
Presentation IAP P6/01 and P7/22
THEMIS UNDER INVESTIGATION
A DECADE OF JUSTICE RESEARCH IN BELGIUM
IAP research
When the IAP network P6/01 started in 2007, 'Justice studies' was an emerging field of research at the crossroads of history, anthropology, sociology and political science, criminology and legal studies. There was a growing awareness that justice should be studied both as a cultural human production, in the field of the humanities (philosophy, language, history, law, art history) and as human activity, from an anthropological perspective (behavioural sciences) as well as from a social perspective, as the product of interaction between individuals and their environment (social sciences). Today, justice is not only an emerging research field but also a major issue in societal debate. IAP work has demonstrated how important it is to invest in multidisciplinary and multidimensional scientific analysis of the relations between society, justice and populations in order to understand and adequately respond to the so-called 'crisis of justice in democratic societies' today.
Since its second phase, the network has been expanded to reflect this multiplicity of approaches, within one integrated field of 'social sciences and humanities': from seven teams of historians and legal historians to fourteen partners (11 Belgian and 3 foreign universities and research institutions), from the fields of history, legal studies, sociology, criminology, political science, management studies and archival science. They have brought together a variety of social science and historical methods, ranging from contextual legal history to social policy analysis, discourse analysis, prosopography and criminological field work. The IAP partners have jointly, and succesfully, supervised 20 PhD's over the past ten years.
Despite the variety of partners and perspectives united in the IAP network, many of our researchers and projects have addressed similar central issues. The network's general feeling of unease at the start of its first phase about the lack of knowledge on interactions between populations, justice and security systems has been proven to be justified, by empirical research but also as the result of growing mediatization and political debate about the Belgian 'justice crisis' (see the Supreme Court's president's discourse of 15 May 2016). The IAP network already took this problem seriously ten years ago, but its researchers quickly discovered that discussions between justice actors, journalists and political actors often remain superficial and devoid of nuance. The explanations for this are simple: the decades-long absence of high quality multidisciplinary research on the topic, the difficulties to address the media in a complex multicultural society, and the lack of social science culture in the traditional training of judicial personnel. The first IAP (P6/01) started by examining the relations between justice and institutions, focusing on the interrelations between political and normative discourses, everyday judicial practices and the social composition of justice personnel, within broader processes of State formation, contestation and disintegration. The second, current IAP further elaborated this 'first layer' by analyzing the interactions between justice, police, and penal systems on the one hand, and citizens' experiences on the other, both in 'normal' periods and in times of crisis.
Another cutting-edge aspect of the network's research is the integration of various social sciences perspectives within a historical reflection: this implies positioning current issues, concepts, perceptions, reforms and processes of change in the judicial domain in their specific historical dynamic, while at the same time examining them in their relationships to other factors of social change. Departing from the problems faced today by Belgian justice (distrust in justice, inequality in police proactivity or judicial treatment, manipulation of procedures at the highest level of the State (Fortis case), mediatization of the fears, etc.), IAP researchers have been digging up underlying mechanisms, archaic procedures, the 'dysfunctioning' of competing institutions or 'normative blurring', a notion used to describe the specific Belgian justice crisis at the end of the Cold War. This profoundly original approach, not always well appreciated by justice actors, however, has revealed the 'path dependence' of Belgian justice resulting from the traumatizing experiences of recurring occupations and colonization. Taken together, the various IAP research projects support the argument that local, national and transnational practices of justice are interlinked through a 'butterfly effect'. Local difficulties in police interactions with young migrants in Brussels, for example, can be intertwined with major distrust towards Western judicial interference in colonial and postcolonial conflicts ('entangled history').
IAP deliverables
Source collections and publications
Within only ten years time, the IAP partners have made ten times more data (figures, sources, visual material) accessible to the research community and to stakeholders than during the prior fifty years. Next to traditional social science tools such as interviews, surveys and panels, the use of written documentation produced throughout two hundred years of justice history has been very important for the network. Thanks to our 'patrimonial' partners (State Archives and CegeSoma), the university teams were able to discover new 'sleeping beauties'. A few examples for the 2012-2017 phase are: the archival disclosure of International trials archives (WW1, WW2, Rwanda); recently discovered archives of Frédéric Eickhoff, an attorney who has defended hundreds of civilians before the German military courts in occupied Belgium; the archival disclosure of police, justice and prison archives; legal iconography and architectural documentation (Justice buildings, prisons).
Details about the IAP collections and publications:
Overview works for a large audience:
Series of scientific monographs and collective volumes:
Associated book series:
Open access digital tools
In the human and social sciences it often takes much time, effort and funding to realize the leap into the new 'digital society'. The IAP funding made it possible to join forces and channel the motivation of many different individual scholars to collect sources and data towards concerted efforts to develop online research platforms. Investing in this process right from its start in 2007, the IAP network has made major steps: the initial Just-His.be website has become the www.bejust.be platform and is now jointly being developed with Digithemis, which was awarded the Wernaers Prize 2016 as a cutting-edge tool.
Digithemis provides online access to:
Associated projects and online tools
The network was the perfect incubator for other collaborative research and valorisation projects like:
Picture:
Copyright @TomasDeKoster
The Interuniversity Attraction Pole P7/22 "Justice & Populations: The Belgian Experience in International Perspective, 1795-2015" (BeJust 2.0) is part of the Interuniversity Attraction Poles Programme Phase VII (2012-2017), financed by the Belgian Science Policy Office of the Belgian State.
The IAP VII/22 Justice & Populations www.bejust.be is the outcome of a collaboration between the Cegesoma, the IAP coordination team (CHDJ-UCL) and the Royal Military Academy. Design: tangografix. Powered by Drupal